Pipeline
We are advancing a proprietary portfolio of TCR-T product candidates, for which we retain worldwide commercial rights.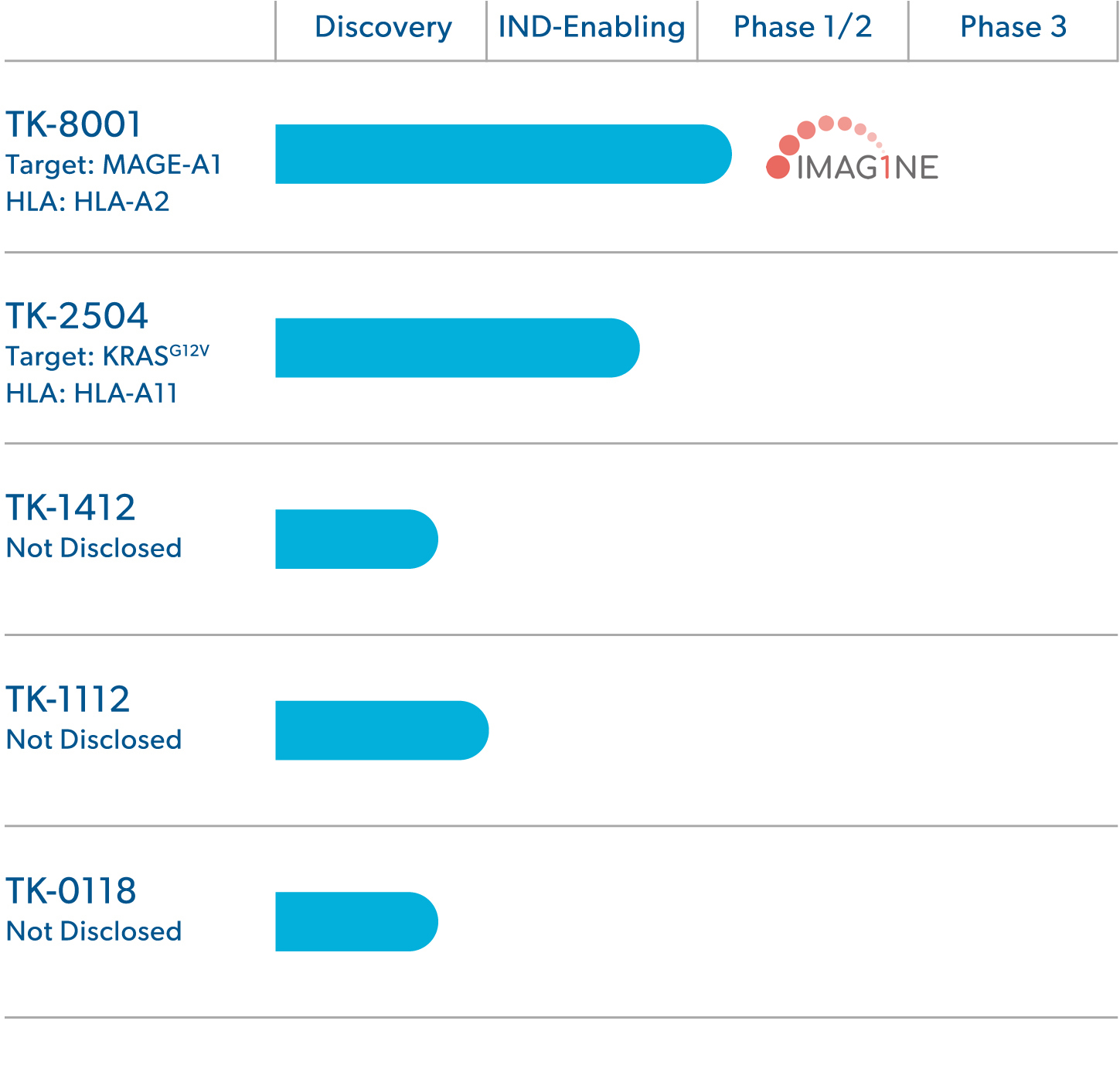 TK-8001 TCR-T Targeting MAGE-A1 Positive Solid Tumors
TK-8001 is a CD8 TCR-T specific for the Melanoma-associated Antigen Gene-A1, or MAGE-A1. MAGE-A1 is associated with hallmarks of aggressive cancers and poor clinical prognosis, and there is an emerging body of evidence indicating its involvement as a potential driver of tumorigenesis. MAGE-A1 represents an attractive therapeutic target given the high unmet need in MAGE-A1 expressing cancers, no reported protein expression in healthy tissues other than testis and significant consistency of expression between the primary tumor and metastases. As high affinity TCRs specific for MAGE-A1 peptides in humans are eliminated through central tolerance, we believe our MyT platform is a differentiated means to discover and select MAGE-A1 specific TCRs with an optimal affinity and high specificity profile.
TK-2504 TCR-T Targeting KRASG12V Positive Solid Tumors
TK-2504 is an HLA-A*11:01-restricted CD8 TCR-T specific for KRASG12V. KRAS is one of the most frequently mutated oncogenes, expressed in over 25% of all cancers, and acts as a molecular switch leading to activation of many intracellular signaling pathways involved in the regulation of cell growth, cell differentiation and cell death. KRAS mutations are defined as driver mutations, meaning they are responsible for both the initiation and maintenance of cancer. Targeting driver mutations reduces the potential for the tumor to employ immune escape mechanisms, making the KRAS family an ideal target for TCR-T therapy. TK-2504 is currently in preclinical development.
---
Clinical Trials
For additional details regarding our clinical trials, please visit clinicaltrials.gov. Our Expanded Access policy can be found here.
Program
Study
Status
Trial Description
TK-8001
IMAG1NE
Phase 1/2 Study
Initiated
The IMAG1NE Phase 1/2 trial is an open-label, multi-center Phase 1/2 trial designed to evaluate the safety and efficacy of TK-8001 in patients with MAGE-A1 positive solid tumors.
Expanded Access
We understand that patients and caregivers are interested in accessing our investigational therapies prior to approval and outside of the clinical trial setting. We believe that advancing our clinical trials to support regulatory approvals is the best approach in support of patients.
For this reason, we do not offer access to our therapies outside of a clinical trial and we do not have an Expanded Access Program, which is sometimes also referred to as a compassionate use program.